For Tina Garrity, the decision to relocate from Chicago to Paradise Valley, Ariz., in the early months of the pandemic was an easy one.
Ms. Garrity, 57, who has a management consulting business, has been visiting the Phoenix area for decades to see family. In March 2019, she bought a roughly 6,400-square-foot home for $1.85 million in Paradise Valley to stay in a few times a year. But when the pandemic hit, she began working remotely and decided to make it her primary residence.
In contrast to her two-bedroom Chicago rental with no outdoor space, Ms. Garrity's Paradise Valley property spans just over an acre with a guesthouse, tennis court, and putting green.
"Having a backyard and having space made a huge difference in work and life in general," said Ms. Garrity, who has kept her Chicago apartment for when she needs to see clients in the city.
Ms. Garrity is one of many out-of-state buyers who have relocated to Paradise Valley since the onset of the pandemic, creating unprecedented demand in the affluent town between
Phoenix
and Scottsdale, according to real-estate agent Joan Levinson.
The suburb has long been little-known outside Arizona, even as it attracted high-profile residents such as Randy Johnson, Mike Tyson, Stevie Nicks, and Muhammad Ali. But since Covid, agents said, droves of buyers from New York, California, and elsewhere now able to work remotely have set their sights on Paradise Valley. They are drawn by Arizona's warm weather and low taxes, as well as Paradise Valley's privacy, spacious lots, and proximity to city life in Phoenix and Scottsdale.
Before the pandemic, the majority of the activity in the Paradise Valley market came from wealthy locals, with some coming from out-of-state buyers mostly looking for second homes, according to Ms. Levinson. Now, out-of-state buyers are flooding the market looking for primary homes, she said.
"Pre-pandemic, we always had some out-of-state buyers but the largest proportion of buyers were Arizona people," said local broker Greg Hague.
Prices in Paradise Valley have skyrocketed, according to Mr. Hague. The median listing price of Paradise Valley homes is now just over $5 million, roughly double what it was just three years ago, he said. On PropertyShark's 2021 ranking of the most expensive U.S. ZIP Codes, Paradise Valley ranked 50th with a median sales price of $2.175 million, up 41% from 2020. That is a dramatic change from 2019 when the town made its first appearance on the list at 93rd.
Meanwhile, the town is drawing wealthier people than ever before.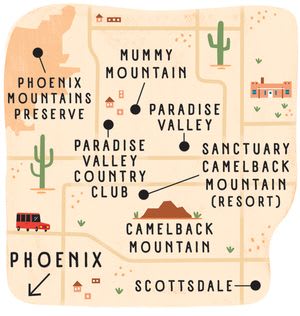 Illustration: Shaw Nielsen
"Our mainstream client probably had a net worth of $50 million about three years ago," said Rich Brock, president and founder of Paradise Valley-based home builder
BedBrock Developers
. "Now, it's definitely over $100 million, and a good handful are over half a billion."
Nestled between Scottsdale and Phoenix, Paradise Valley is surrounded by mountains. The town has multiple golf courses and high-end resorts, including Sanctuary Camelback Mountain, which was recently acquired by New York-based Gurney's Resorts. Later this year, the Ritz-Carlton Paradise Valley at The Palmeraie will open with villas and a resort.
Other than its resorts, the town is almost exclusively residential, with most single-family lots zoned to span an acre or more, according to Paradise Valley Mayor Jerry Bien-Willner, who said the large lots have been a major draw during the pandemic.
In June 2021, Samantha and Morgan Dollard listed their San Francisco home and set off on a road trip to find a new place to live. Mrs. Dollard, 38, is a stay-at-home mom and Mr. Dollard, 42, works remotely in product management in the tech industry. They have three children in elementary school. In October 2020, they became overwhelmed with the challenges of remote learning and switched to homeschooling. With their children no longer in school in California, they decided to sell.
"We were looking for something less busy," Mrs. Dollard said. "We were looking for more space. We were looking for more peace. We felt like we were always stressed and running in the Bay Area."
After considering locations such as Orange County, San Diego, Boulder, and Denver, they decided on Paradise Valley, she said. About two weeks into their road trip, they sold their roughly 2,700-square-foot home in San Francisco for $3.25 million, she said. About a month later, they bought a roughly 5,800-square-foot, 5-bedroom home in Paradise Valley for $2.875 million.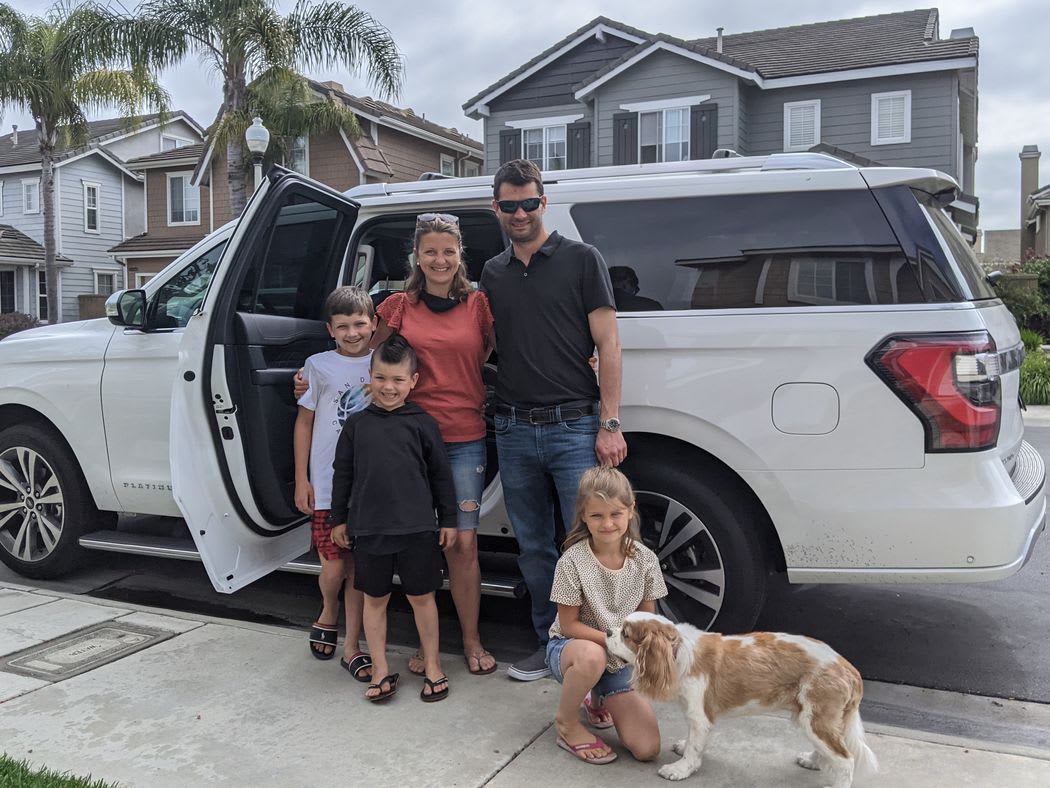 The Dollard Family as They Prepared for Their Road Trip in June 2021.
Photo: Dollard Family Photo
"Each of the kids have their own room, my husband has his own office," Ms. Dollard said. "It feels like we have space to just be."
For many buyers, Ms. Levinson said, Paradise Valley is appealing because of its proximity to urban amenities; the town is located about 4 miles from downtown Scottsdale and 15 miles from downtown Phoenix.
That was a major plus for Connie De Groot and her fiancé, Richard Engel, a real-estate developer, who moved to Paradise Valley from Santa Monica, Calif., in 2021. Ms. De Groot, a real estate agent, has family in Phoenix and Mr. Engel has been developing properties in Arizona for about three decades. They were drawn to Paradise Valley, they said, because it has spacious lots, quiet streets, greenery, and its own police department, all while being close to the Phoenix and Scottsdale city life. "We wanted to be close to restaurants and things because that's what we have in Santa Monica," Ms. De Groot said.
Like a number of other transplants, Ms. De Groot, 58, and Mr. Engel, 76, also said politics played a role in their decision to move their primary residence to Arizona. In California, they feel local policies have led to rising crime, higher taxes, congestion, and homelessness. In addition, everything was locked down in California, Ms. De Groot said, but in Arizona, they were able to go to restaurants and gyms.
In March 2021, they bought a home in Paradise Valley for about $3.3 million. A few months later, a newer home in the town with more space became available, so they bought it for $5.799 million and sold the first house for about $350,000 more than what they paid. Their new property spans over 2 acres with a pool, two casitas, a pickleball court, a citrus orchard, and a koi pond. It is about 2,500 square feet larger than their California home, which sits on less than an acre. Still, their taxes are considerably less, Mr. Engel said.
While Ms. De Groot and Mr. Engel have made Paradise Valley their primary residence, they still own their California home and plan on spending time there, especially during Paradise Valley's hotter months, which are typically June through August. During those months, agents said, many area residents seek refuge in their second homes, which are either out of state or in the mountains about two hours drive from the town.
Like other high-end markets across the country, inventory in Paradise Valley has shrunk, driving up prices even more. "For all the years I've sold real estate in Paradise Valley, there were typically 300 to 400 homes on the market at any given time," Mr. Hague said; by contrast, on Jan. 25 there were just 78 homes listed.
For David Wurtz, a 37-year-old tech industry executive, the warm weather is what pushed him to move to Arizona from Boulder, Colo., with his wife and family last year. Mr. Wurtz, who was familiar with Arizona because he visited growing up, said they moved because pandemic-related lockdowns halted many of their children's indoor activities. In Paradise Valley, by contrast, most extracurriculars can be held outdoors.
They sold their Boulder home and bought a roughly 14,000-square-foot Spanish Colonial in Paradise Valley for about $13.5 million. The approximately 2.5-acre property includes a swimming pool, a basketball court, and an exercise track that wraps around the perimeter.
"We're having fun in Paradise Valley," Mr. Wurtz said.
SHARE THIS STORY