On The Ground in Paradise Valley
My name is Rich Brock, founder of BedBrock Developers. With 25+ years of experience in the luxury home market in Paradise Valley, I feel confident in sharing my opinion on the home market and will continue to do so in our monthly newsletters based on solidified data from credible data-driven sources (linked below).
June 2019 I was featured in an article in the Phoenix Business Journal, I described the market as bullish for the next 8 years, and I stand by that today.

June 2019; "I'm very bullish on this market for the next eight years. We're in a very great market. No one knows when the next recession will start. I feel though, real estate, the housing market, is positioned very well because the inventory levels have never caught up after the downturn. And as I mentioned earlier, there's virtually no new home inventory in Paradise Valley. So even in a down market, luxury will do well. Prices might flatten, but luxury will get through it."

After researching much of the data, the one that I look towards for state of the market would be the Cromford Market Index CMI. With the state of the economy today, this is where they see the overall market which still supports my opinion from 2019.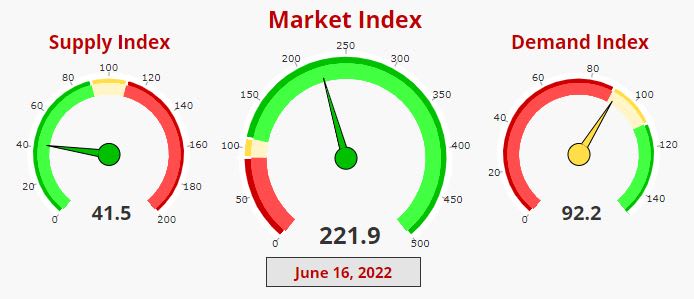 100 is balanced and prices rise at the rate of inflation (currently 8.6%), below 100 is a buyer's market, above 100 is a seller's market, prices drop below 90, prices rise at 110.

Between 90 - 110 prices roughly follow the rate of inflation.

6/17/2022 we were at 221.9

All-time high: 3/14/2021 at 514.9

2022 High: 2/7/2022 at 474.6

CMI is the predictor, it moves first, and then appreciation follows, one cannot predict the CMI, it tells us where we are today.
Given this data, supply is 60% below normal. Due to the fact that construction timelines are a minimum of one year for a residential home, and two years for a luxury home, it's not possible to increase supply high enough to balance the demand, the demand would have to drop over 50% in order to reach that margin.

The Arizona market has developed into diversified industries, with tech leading the way, which will endure a recession or slow-down. Although we do believe demand will fall, it has a long way to go to drive the market negative.

According to data provider Black Knight Inc "A housing crash, like the one following the 2008 financial crisis, is unlikely because demand still far outstrips the supply of available homes. Most owners have large equity stakes in their properties, especially since the recent surge in values, meaning they could sell in a financial pinch without taking a loss. In the unlikely event prices fall 10% from today's levels, only about 1.3 million of the 53 million outstanding home loans would be underwater."

The national housing slowdown needs to be viewed as the market heading back to the normal, not a crisis. The soaring numbers we have seen in the past two years are coming off a peak that was distorted because of the pandemic. I believe we will see a leveling of home prices over the next two years. With inflation stabilizing, the cost to build would become more manageable.

Specific to the luxury market, we have dissected Paradise Valley inventory. Inventory at the peak of the market were at historic lows of approximately 80 homes. We saw an increase in inventory over the past few months rising to approximately 140 homes. As of June 17th, inventory has dropped down to 110 active single-family listings with 46 pending sales. The historical average of active listings in Paradise Valley has been between 350-400 homes. This continues to show strength in the luxury marketplace.

As more countries open up and return to normalcy post-pandemic, the return of international buyers reappears. A prime example is the recent luxury home sale in Scottsdale at a price of $28.1M purchased by an international buyer.

If you're in the market to build, this is a great time. It's been very difficult over the past few years to manage budgets due to rising costs, moving forward we will have a better handle on budgets and labor. It is a relief for a homebuilder because we are getting back to normalcy. For the consumer, they can build in a managed budget and know by the time they complete the home there will be upside.
Footnotes
SHARE THIS STORY